Arizona Tube Supply

Vacuum Tubes for the Audiophile and Vintage Electronic Parts for Antique Radio and Ham Radio

Need tubes for your audio gear or guitar amp?

Need tubes for that antique radio or boatanchor you are restoring?

You have come to the right place!
---
Welcome to Arizona Tube Supply where we have hard to find vacuum tubes for your audio gear, guitar amp, antique radios and vacuum tube ham radio equipment (boatanchors). Need sweep tubes or driver tubes for your Swan, Drake, Galaxy or Yaesu transceivers? We have them!
We also have thousands of radio tubes not listed here in addition to tubes for 1930's, 1940's and 1950's radios that are not listed. Please inquire.
If you don't see what you are looking for on this list, please contact me and let me know what you are looking for as I have large quantities of 6DJ8, 12AU7, 12AT7, 12AX7, 6V6, 6SN7, 6SL7, 6FQ7 6CG7, 12BH7, 5687, etc.
I also have a large inventory of most brands of 6AK5 EF95 403B tubes for headphone amps such as the Little Dot Amps and many more.
I also have many rare and hard to find audio tubes.
In the case of audio tubes, I can supply matched pairs, matched quads or singles depending current inventory.
---
I only sell vintage tubes from the 1920's through the early 1980's.
I do not sell new issue tubes.
---
---
I have been selling tubes on ebay, Audiogon and other internet venues for over 18 years with sales to over 72 countries.
You can view some of my feedback here. This is from eBay and is primarily tube sales.
You can view some of my feedback here. This is from Audiogon and is 100% tube sales.
---
All tubes are tested on my calibrated TV-7/B or on my calibrated Hickok 539C. All of these tubes have been tested for transconductance, shorts, gas, leakage and life. All tubes meet or exceed manufacturer published specifications of transconductance (Gm) for the specified tube type. All tests are tested twice - prior to the listing and prior to shipping. Test readings and photographs are available on request and all tubes shipped include the test readings.
I ship international. I have sold and shipped tubes to 72 countries.
Shipping
Your tubes will be well packed. All tubes are shipped in white boxes or the original boxes if available. They are than are wrapped in bubble wrap and shipped in a box. I have shipped thousands of tubes all over the world.
Payment Methods
We accept payment by

, money order, cashier's check or personal check. Orders paid with Paypal are shipped next day unless it is the weekend.
If you don't see what you need, PLEASE phone or e-mail me, I would love to help you!
---
Contact Me
Please contact me (Dave) at n7rk@cox.net or you can call me at 602-803-6290 for questions and pricing.
Thanks for looking.
---
Tube Testers - We also occasionally have tube testers for sale. Click here for the tube tester page.
---
Inventory is constantly changing so website is currently under construction
| | | | |
| --- | --- | --- | --- |
| Tube Number | Type | Description | Brands In Stock |
| 26 226 | Pre-Amp Tube | Triode | Various - Inquire |
| 27 227 | Pre-Amp Tube | Triode | Various - Inquire |
| 280 | Rectifier Tube | Dual Rectifier | RCA |
| 45 | Output Tube | Triode | Inquire |
| 56 | Pre-Amp Tube | Triode | Various - Inquire |
| 76 | Pre-Amp Tube | Triode | Various - Inquire |
| 71A | Output Tube | Triode | Various - Inquire |
| 80 | Rectifier Tube | Dual Rectifier | Various - Inquire |
| 417A/5842 | Pre-Amp Tube | Triode | Western Electric, RCA, Tung-Sol |
| 418A | | Power Tetrode | Western Electric |
| 420A 5755 | Pre-Amp Tube | Dual Triode | Western Electric |
| 421A | Headphone Amp Tube | Dual Triode | Western Electric |
| 437A | | Triode | Western Electric |
| 805 | Output Tube | Triode | |
| 807 | Output Tube | Power Pentode | RCA, Ken-Rad |
| 813 VT-144 | Output Tube | Power Pentode | RCA, Ken-Rad, GE and other brands |
| 826 | Output Tube | Triode | RCA, Ken-Rad |
| 845 | Output Tube | Triode | |
| 1625 | Output Tube | Power Pentode | Inquire |
| 1626 | Output Tube | Triode | RCA, Ken-Rad, Hytron |
| 1629 | Magic Eye Tube | | RCA and other brands |
| 5654 6AK5 403B EF95 | Little Dot Headphone Amp Tube | Pentode | Tung-Sol, Western Electric, Raytheon, Hytron, RCA, GE 5 Star |
| 5670 | Headphone Amp Tube | Dual Triode | GE, Amperex |
| 5687 | Pre-Amp Tube | Dual Triode | Tung-Sol, RCA, GE |
| 5691 | Pre-Amp Tube | Dual Triode | RCA |
| 5692 | Pre-Amp Tube | Dual Triode | RCA, CBS Hytron |
| 5693 | Pre-Amp Tube | Dual Triode | RCA, |
| 5751 | Pre-Amp Tube | Dual Triode | RCA, GE, Sylvania, Tung-Sol |
| 5814 | Pre-Amp Tube | Dual Triode | RCA, GE, Sylvania |
| 5842 | Pre-Amp Tube | Dual Triode | Western Electric, Amperex RCA |
| 5881 6L6WGB | Output Tube | Power Pentode | Tung-Sol |
| 5933 807 | Output Tube | Power Pentode | Sylvania |
| 5963 | Pre-Amp Tube | Dual Triode | RCA, Sylvania , GE |
| 5965 | Pre-Amp Tube | Dual Triode | GE |
| 6072 6072A | Pre-Amp Tube | Dual Triode | GE |
| 6119 | Pre-Amp Tube | Dual Triode | Amperex |
| 6189 | Pre-Amp Tube | Dual Triode | RCA, Sylvania |
| 6201 | Pre-Amp Tube | Dual Triode | GE |
| 6211 | Pre-Amp Tube | Dual Triode | RCA |
| 6336 6336A 6336B | Headphone Amp Tube | Dual Triode | Tung-Sol |
| 6394A | Headphone Amp Tube | Dual Triode | Tung-Sol |
| 6414 12AT7 | Pre-Amp Tube | Dual Triode | GE, Raytheon |
| 6528 | Headphone Amp Tube | Dual Triode | Tung-Sol |
| 6550 | Output Tube | Power Pentode | Tung-Sol |
| 6922 | Pre-Amp Tube | Dual Triode | Amperex, Mullard, Sylvania |
| 7025 12AX7 | Pre-Amp Tube | Dual Triode | RCA, GE, Sylvania |
| 7044 | Pre-Amp Tube | Dual Triode | GE |
| 7119 | Pre-Amp Tube | Dual Triode | Amperex |
| 7199 | Pre-Amp Tube | Pentode-Medium-Mu Triode | RCA (Used in Dynaco, Heathkit, etc.) |
| 7308 | Pre-Amp Tube | Dual Triode | Amperex |
| 7316 | Pre-Amp Tube | Dual Triode | Amperex |
| 7868 | Output Tube | Power Pentode | RCA, Sylvania, GE |
| 8233 E55L | Output tube | Power Pentode | Amperex, Mullard |
| 12AT7 ECC81 | Pre-Amp Tube | Dual Triode | Amperex, GE, Mullard, RCA, Sylvania, Telefunken, Tung-Sol |
| 12AU7 12AU7A ECC82 | Pre-Amp Tube | Dual Triode | Amperex, GE, Mullard, RCA, Sylvania, Telefunken, Tung-Sol |
| 12AV7 | Pre-Amp Tube | Dual Triode | Various - Inquire |
| 12AX7 12AX7A ECC83 | Pre-Amp Tube | Dual Triode | Amperex, GE, Mullard, RCA, Sylvania, Telefunken, Tung-Sol |
| 12AY7 | Pre-Amp Tube | Dual Triode | GE, RCA, Tung-Sol |
| 12B4A | Output Tube | Triode | GE, RCA |
| 12BH7 | Pre-Amp Tube | Dual Triode | RCA, Tung-Sol, Sylvania, GE, Mullard |
| 12X4 | Rectifier Tube | Dual Rectifier | Mullard RCA, GE (Used in Dynaco PAS pre-amps) |
| 2A3 | Output Tube | Triode | RCA, Sylvania |
| 2C50 | Pre-Amp Tube | Dual Triode | Raytheon |
| 2C52 | Pre-Amp Tube | Dual Triode | Raytheon |
| 2C51/396A | Pre-Amp Tube | Dual Triode | Western Electric, Tung-Sol |
| 5AR4 GZ34 | Rectifier Tube | Dual Rectifier | Mullard |
| 5R4GY | Rectifier Tube | Dual Rectifier | RCA |
| 5R4GYA | Rectifier Tube | Dual Rectifier | RCA, GE |
| 5R4WGB | Rectifier Tube | Dual Rectifier | Tung-Sol, Chatham |
| 5U4G | Rectifier Tube | Dual Rectifier | RCA, Sylvania, GE, Tung-Sol, Ken-Rad |
| 5U4GB | Rectifier Tube | Dual Rectifier | RCA, Sylvania, GE, Tung-Sol |
| 5V4G GZ32 | Rectifier Tube | Dual Rectifier | RCA, Sylvania, Ken-Rad |
| 5Y3G | Rectifier Tube | Dual Rectifier | Inquire |
| 5Y3GT | Rectifier Tube | Dual Rectifier | RCA, GE, Sylvania, Tung-Sol, Hytron |
| 6028 | Yamamoto and Little Dot Amp Headphone Amp Tube | Pentode | Tung-Sol, Western Electric |
| 6080 | Headphone Amp Tube | Dual Triode | RCA, GE, Sylvania |
| 6AK5 5654 403B EF95 | Little Dot Headphone Amp Tube | Pentode | Tung-Sol, Western Electric, Raytheon, Hytron, RCA, GE 5 Star |
| 6AS7G | Headphone Amp Tube | Dual Triode | RCA, GE |
| 6AU6 | | Pentode | RCA, Sylvania, GE, Tung-Sol |
| 6A3G | Output Tube | Triode | |
| 6A5G | Output Tube | Triode | |
| 6B4G | Output Tube | Triode | Inquire |
| 6BH6 | Used in Mcintosh gear | Pentode | RCA, GE |
| 6BL7 | Pre-Amp Tube | Dual Triode | GE, RCA |
| 6BQ5 EL84 | Output Tube | Power Pentode | Mullard, RCA, Amperex, GE |
| 6BX7 | Pre-Amp Tube | Dual Triode | GE |
| 6C5GT | Pre-Amp Tube | Triode | |
| 6CA4 EZ81 | Rectifier Tube | Dual Rectifier | GE, Amperex |
| 6CA7 EL34 | Output Tube | Power Pentode | Mullard |
| 6CG7 6FQ7 | Pre-Amp Tube | Dual Triode | RCA, GE, Sylvania |
| 6DJ8 ECC88 | Pre-Amp Tube | Dual Triode | Amperex, GE, Mullard, Sylvania |
| 6EM7 6EA7 | Pre-Amp Tube | Dual Triode | RCA, GE |
| 6EU7 | Pre-Amp Tube | Dual Triode | RCA, Sylvania |
| 6E5 | Magic Eye Tube | | Inquire |
| 6F8G | Pre-Amp Tube | Dual Triode | RCA |
| 6J5GT | Pre-Amp Tube | Triode | RCA, Sylvania, Raytheon |
| 6L6 | Output Tube | Power Pentode | RCA, GE, Sylvania |
| 6L6G | Output Tube | Power Pentode | RCA, GE, Sylvania |
| 6L6GA | Output Tube | Power Pentode | Sylvania, National Union |
| 6L6GB | Output Tube | Power Pentode | RCA, GE, Sylvania |
| 6L6GC | Output Tube | Power Pentode | RCA, GE, Sylvania |
| 6SJ7GT | Pre-Amp Tube | | RCA, Sylvania, Tung-Sol |
| 6SJ7 (metal) | Pre-Amp Tube | | RCA, Sylvania, GE |
| 6SL7GT | Pre-Amp Tube | Dual Triode | RCA, Ken-Rad, Sylvania, GE, National Union, Tung-Sol |
| 6SN7GT 6SN7GTA 6SN7GTB | Pre-Amp Tube | Dual Triode | RCA, Ken-Rad, Sylvania, GE, National Union, Tung-Sol |
| 6SU7GTY 6SU7GT | Pre-Amp Tube | Dual Triode | Tung-Sol |
| 6U5 | Magic Eye Tube | | Inquire |
| 6V4 EZ91 | Rectifier Tube | Dual Rectifier | Valvo |
| 6V6 (metal) | Output Tube | Power Pentode | RCA, GE |
| 6V6G | Output Tube | Power Pentode | RCA, Tung-Sol |
| 6V6GT | Output Tube | Power Pentode | RCA, Ken-Rad, Sylvania, GE, National Union, Tung-Sol |
| 6X4 6X4W EZ90 | Rectifier Tube | Dual Rectifier | RCA, Tung-Sol, Sylvania, GE, Mullard, Raytheon |
| EF95 6AK5 5654 403B | Little Dot Headphone Amp Tube | Pentode | Tung-Sol, Western Electric, Raytheon, Hytron, RCA, GE 5 Star |
| VT-229 6SL7GT | Pre-Amp Tube | Dual Triode | RCA, Sylvania |
| VT-231 6SN7GT | Pre-Amp Tube | Dual Triode | RCA, Raytheon, Sylvania, Ken-Rad |
| | | | |
| | | | |
| | | | |
| | | | |
| Ham Radio Tubes | | | |
| 6146 | Output Tube | | various brands available - inquire |
| 1L6 | Used in Zenith Transoceanic | | various brands available - inquire |
| 6CL6 | Driver Tube | | various brands available - inquire |
| 6DQ5 | Output Tube | | various brands available - inquire |
| 6GE5 | Sweep Tube | | various brands available - inquire |
| 6GJ5 | Sweep Tube | | various brands available - inquire |
| 6GK6 | Driver Tube | | various brands available - inquire |
| 6HF5 | Sweep Tube | | various brands available - inquire |
| 6JB6 | Sweep Tube | | various brands available - inquire |
| 6JE6 | Sweep Tube | | various brands available - inquire |
| 6JS6A, 6JS6B, 6JS6C | Sweep Tube | | various brands available - inquire |
| 6KD6 | Sweep Tube | | |
| 6L6 | Output Tube | | various brands available - inquire |
| 6LB6 | Sweep Tube | | various brands available - inquire |
| 6LQ6 | Sweep Tube | | |
| 6MJ6 | Sweep Tube | | Out of stock |
| 6V6 | Driver Tube | | various brands available - inquire |
| 12JB6 | Sweep Tube | | various brands available - inquire |
| 12BY7 | Driver Tube | | various brands available - inquire |
| 807 | Output Tube | | various brands available - inquire |
| 1625 | Output Tube | | various brands available - inquire |
| 2E26 | Output Tube | | various brands available - inquire |
| 5763 | Driver Tube | | various brands available - inquire |
| 6360 | Output Tube | | various brands available - inquire |
| 6146 | Output Tube | | various brands available - inquire |
| 7360 | Beam Deflection Modulator | | various brands available - inquire |
| | | | |
| Nixie Tubes | | | |
| B-7971 | Jumbo Nixie Tube | | Out of Stock |
| B-5441 | Nixie Tube | | Burroughs - Inquire |
---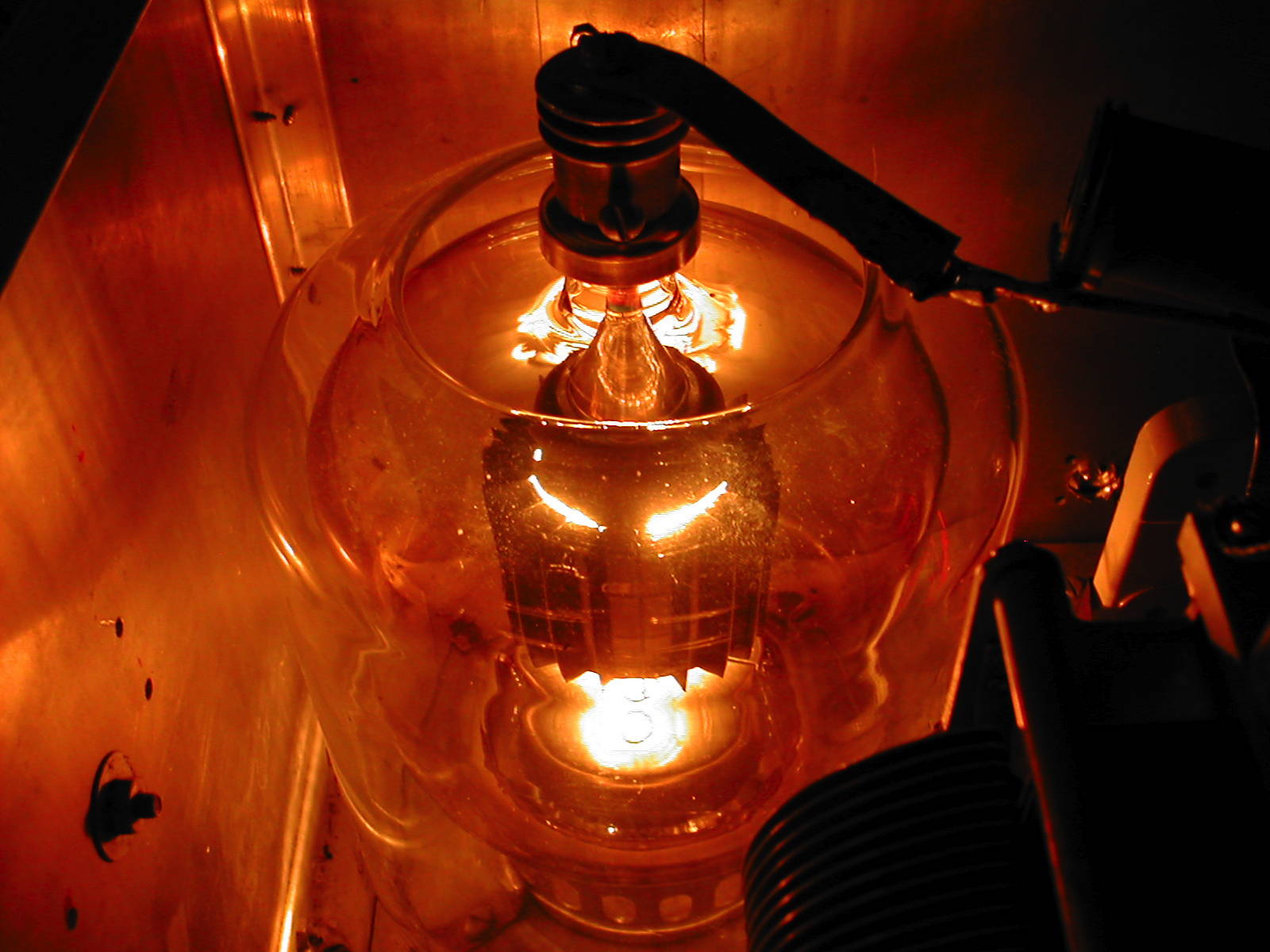 A photo of the 4-1000A transmitting tube in my home-brew (DIY) ham radio linear amplifier
---
The crew and former crew at Arizona Tube Supply. My Dachshund and Golden Retriever have gone to the Rainbow Bridge. I sure miss their help :-)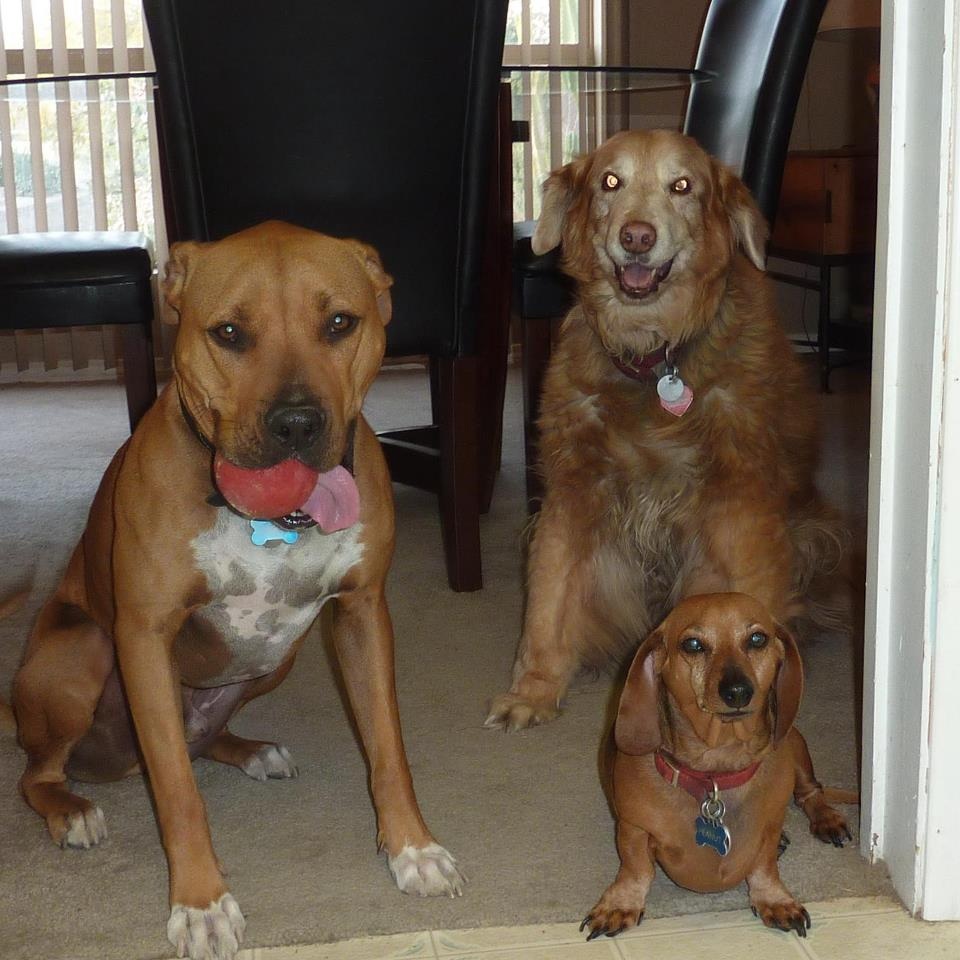 ---
Asof 11/29/09
Site Last Modified on 7/7/2019